Welcome to Twiggs County, Ga.
American History and Genealogy Project

The geographic center of Georgia is located here
as well as the home of Georgia Music Hall of Fame's Chuck Levell and Ches "Goat Man" McCartney.
Twiggs County was created in 1809 from Wilkinson Co. and named for General John Twiggs, a prominent leader in the Revolutionary War

and the Indian Wars. Parts of the county was added to Bibb County in 1833, 1842, 1849, 1851, 1875, 1876 and 1877.

Neighbouring counties are:
Wilkinson,
Bleckly, Houston, Bibb and Jones. The Ocmulgee river borders the county on the west.
The county seat was orginally in Marion, named after
General Francis Marion,
until 1868, when it was moved to Jeffersonville
6 miles east of Marion. The court house of Twiggs County was destroyed by fire February 7, 1901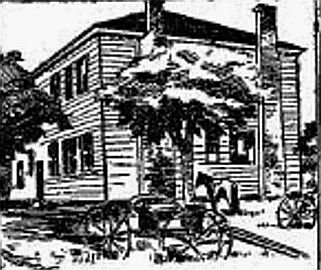 Courthouse in 1897
Built in 1825, burned Feb 7, 1901 1911 ( built 1902-1903)
Sketch from
Atlanta Constitution
Dec. 12 1897 Sketch from Macon Telegraph April 16,1911
Among the first settlers were Arthur Fort, Ezekial Wimberly, William Perry, Henry Wall, William Crocker, General Tarver, Ira Peck, John Fulton, John Everitt, D. Williams, Joel Denson, S. Jones, Willis Hodgins, Milton Wilder, Josiah Murphy, Davis Lowery, C. Johnson, C. A. Thorpe, John Davis, C. W. Melton, B. Ray, S. Harrell, T. Harrington, H. Sullivan, . Whites Historical Collections of Georgia
Distinguished Residents of Twiggs County include General Ezekiel Wimberly, Colonel James W. Fannin, Thaddeus Oliver, General Hartwell H. Tarver, Robert L. Perryman, Robert A. Everett, Stephen F. Miller, Governor James M. Smith, Judge A.T. MacIntyre, Dr. James E. Dickey, General Philip Cook, Honorable Dudley M. Hughes., Georgia's Landmarks, Memorials and Legends.
Do you have any historical or genealogical materials to share? Email me Eileen B. McAdams
Twiggs County, Ga. American History & Genealogy Project Coordinator. Materials are copyrighted by the submitter.

NEW



This site is a member of The American History and Genealogy Project (AHGP),
an unincorporated not-for-profit network of independent sites devoted
to History & Genealogy, and covering North American Countries and Territories.
For more information about our group, including how you can join us,
please see our About page.
Eileen Babb McAdams - Twiggs County AHGP Co-ordinator;Paula Franklin Georgia AHGP Co-ordinator


A special thanks to Georgia Genealogy for the use of their server.

This site may be freely linked, but not duplicated in any way without consent.
All material was transcribed by me unless indicated.
Submitted data and photographs are copyrighted by the submitters.
All rights reserved! Commercial use of material within this site is prohibited!

Eileen Babb McAdams Copyright 2004