Twiggs County Ga. Schools
Antioch School
Near Antioch Baptist Church. Was active in 1914.
Asa School
In Asa community, north of Dry Branch. Professor R. A. Nash had 54 pupils in 1900.
Auburn Institute

Private Co-ed School in Jeffersonville, N. Longfellow was the principal of the female school in 1832. Samuel W. Hatch principal in 1851, J. E. Crosland principal in 1854, W. E. Carswell Jr. was chairman of the board of trustees in 1884. J. H. Napier, principal in 1886 and 1887. Miss Cordelia Hunter in charge of the musical department in 1887. J. E. McRea was the prinicipal in 1889 and 1890's. and Jane Beall was in charge of the primary department. In 1893 Professor Idus McNari was principa; Professor L. P. Browning assistant principal and Miss Julia B. Hilton, music tacher. Professor J. M. Carswell was principal in 1897, Miss Bonnell in charge of the music deaprtment and Miss Ketina Floyd assistant teacher. Prof. Searcy was the principal here in 1900 and 1901. Prof. Hewett of S. C. was a teacher in 1900. Miss Emmie McNair and Miss Ethel Shannon were teachers and Miss Mary Yancy Griffin music teacher in 1901. In 1902 Professor McEachen was the princiapl, Miss Emmie McNair, assistant principal.
Barchray School
active in 1916
Beech Spring Academy
Near Beech Spring Methodist Church.
Big Oak

Built in 1898 in Big Oak community, in northern Twiggs county. Teacher in 1899 was Lizzie Burkett and she had 32 pupils. News Article 1899.
Bullard(s) School
The Bullard School was on the Bullard - Jeffersonville Rd. near crossroads just SW of the John Barrett Everett's residence.
Cannon School
area of Danville and Cool Springs in 1916
Chance Hill School
Near Chance Hill Church. African-American.
Cool Springs School
Next to Cool Springs Church. Prof. F. A. Cannon teacher here in 1886. Miss Gertrude McCoy was teacher hre in 1901. Active in 1916.
Crosby School
Was active in 1914, 1916
Crosland Academy
Danville, in operation 1863 to 1892. James E. Crosland was the principal here.

Danville School

Located in Danville in Wilkinson County. In 1918 students attended schools 9 months up to the 10th grade. E. B. Lazenby was the principal, Miss Lucy Bellows the assistant. 61 students from Wilkinson county and 12 students from Twiggs County attended.
---

Danville High School
Chartered in 1905. Professor Thomas L. Bryan was the first principal.

hotos submitted by John E Everett Jr, Grandson of Thomas Francis Everett of Bullard, GA.
Left Photo is from Twiggs County Georgia Records: A Reconstructed History. Right Photo from Everette descendant. The man with mustache sitting in carriage is Thomas Francis Everett. His son John E. Everett Sr. was a teacher here for a few years.
Everett School
Was in Bullard behind the Everett Residence. Active in 1914, 1916
Faulk School
near Jeffersonville, Miss Lucile Methvin teacher here in 1914. Active in 1916.
Fair View School
Dry Branch, active in 1914, 1916
Fitzpatrick School
Active in 1905, 1916
Friendship Academy aka Davidson's Academy

1865 Map aka Davidsons Academy. Trustees - 1854: Joseph Davidson, Joseph Blackshear, John H. Denson, Abner H. Hammond, and Peyton Reynolds. Miss Sallie Hendry was a teacher here in 1906.

---
Friendship Church School
At Bullards. Miss Florence L. McCoy of Jeffersonville was teacher here in 1900
Glenland School
Active in 1914 and 1916
Griffin School
Near Griffin Give Church.
Herring School
Active in 1916
Ida Hill School
At Tom Hill place. Active in 1916
Jeffersonville Academy

Incorporated 1828. Trustees 1828: Thomas W. Terrell, John R. Lowry, James Guerry, sen. James Willis, and John E. Dennard. Trustees 1837 : Robert Radford and Benj. Bryan added. Trustees 1858: H. Hughes, Wm. Bryan, N. Berry, I. E. Dupree, H. S. Wimberly. Samuel Wesley Hatch was the head of the academy here twice before his death in April 1864.
Jesup School
Miss Hattie Sanders was the teacher here in 1914.
Marion Academy

Incorporated 1816. Trustees 1816: Archibald M`Intyre, Moses Fort, Samuel Dick, Dr. Robert Cummins and William Crocker
Trustees added 1819: John Hardin and Arthur C. Perry. Trustees 1838: William Crittington, Henry Land, Peyton Reynolds, and James Solomon. William O'Daniel taught here before the civil war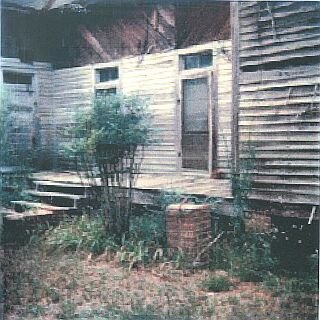 Marion School
1985 Photo Above. Building since torn down.
Mercer School
Active in 1916
Midway School
At Everett. Active in 1916
Moore School
Active in 1914, 1916
Mount Olive
African American
Mount Zion School
East of Dry Branch. Was next to Mount Zion Missionary Baptist Church.
Mount Zion School
Near Danville.
New Haven Institute
Dollie Whitehurst was principal in 1894 per Atlanta Const.
Oak Dale
Near Twiggsville, Miss Mary Lou Harrell was teacher here in 1901. Active in 1916
Ocmulgee Academy
Male and Female

Incorporated 1819 at Tarversville. Trustees 1819: Benjamin Dupree, Edmund Dupree, William W. Williamson, Henry Bunn, and Robert Glenn. 1826: Joseph D. Thompson was the rector in July 1826. Boarding was offered with respectable families at $7 or $8 per month. H. Lawson was Secretary of the board. In 1830 the tution fees were $14 - $24 depending on the studies. Trustees were: Henry Bunn, Ira E. Dupree, Dennis D. Sanders, Hartwell H. Tarver and William D. Glenn. Trustees 1830's: Henry Bunn, Ira E. Dupree, D. W. Shine, H. H. Tarver, John G. Slappey. 1832: Mr. Cooper was the rector. Trustees were: H. H. Tarver, H. Bunn, D. W. Shine. and I. E. Dupree. Boarding was $5 or $6 per month. 1838: Geo. P. Cooper rector. Trustees wee Henry Bunn, D. W. Shine, Ira E. Dupree, Hart. H. Tarver, John G. Slappey
Phillips School
Was active in 1914
Planter's Academy

Incorporated 1833 Trustees 1833: William A. Cowan, Joseph J. Chappel, Reuben A. Nash, James G. Wall, and Champion Butler.
Pleasant Grove Academy

Common School built by Emmiriah Daniel. Trustees 1837: Richard S. Rodgers, James Pearson, Abisha Anders, Wm. H. Read, and Cornelius Hollingsworth
Prospect School
was next to Prospect Baptist Church.
Richland Academy

1865 Map near Richland Baptist Church. Trustees 1837: Joseph R. Hand, John Asbell, Hardy Durham, John H. Denson, Thomas Glover, Thomas W. Anderson, and Joel Denson. J. Trustees in 1842: James Ware, T. W. Anderson, T. Glover, J. H. Denson, Hardy Furham and J. R. Hand. E. Crosland was principal in 1851. Was active in 1916.
Shiloh School
Was next to Shiloh Church near Tarversville.
Stone Creek Academy
Incorporated 1831. Was next to Stone Creek Church

Trustees 1831:William A. Sharp, Elisha Davis, Jeremiah A. Sharp, William Davis, and Thomas Chappel, 1834: names of William A. Tharp, Jeremiah A. Tharp, and James Pearson be inserted in lieu of William A. Sharp, Jeremiah A. Sharp, and William Davis.
Tarversville School Aka Tarvers School
Twiggs Academy aka Academy of Twiggs County

Incorporated 1810. Trustees 1810: Jacob Ricks, James M'Cormick, James Johnston,Thomas Daniel, Abraham Wood
1811: Henry Gragg in place of James Johnson, resigned. 1816 Trustees: Archibald M`Intyre, Moses Fort, Samuel Dick, Dr. Robert Cummins and William Crocker. 1822 Miss Harriet Cushing the preceptress died at the age of 23
Union Hill Academy

Trustees 1837: Thomas S. Chappell, John A. Nelson, Wm. Nelson, John C. Epps, and James W. Collins

Vernon Johnson School

School is still standing, across from Asbury Church. Wilkinson/Twiggs County line. Clear Creek school district
1918 - 1 teacher school. 5 mo. term for Wilkinson county students. 6 1/2 mo. term for Twiggs students. 31 students
Westlake School
Active in 1916
White Springs School
Was next to White Springs Church.
Williams School
was active in 1905, 1916