SLAVES IN WILLS
Wilkinson County Will Book 1817-1860.
BIVINS, WILLIAM - 3/5/1828
Caroline, Susan, Simon, Peggy, Mary, Julia, Mercer, Lewis, small negroes of Martin Luther Bivins not named
BROWN, WILLIAM - 7/6/1845
Guy, Sue, Love
BROWN, WILLIAM F.M. - 5/5/1857
Hector, Caesar, Adam, Jack, Phoebe, Ellen, Hannah & 2 children Caesar & infant, John, Martha, Calvin. Washington Ingram, husband of sister Sara.
BUTLER, MALACHI - 1850
Mary.
CALHOUN, RACHAEL - 3/17/1831
Slaves: Tom, Isaac, Anaca,
Zilphia, Anthony, Sal, Will, Annie, Madison, Caroline, Jim, Frank, Clayborn, Diana & infant child, Violet, Sarah, Anna, Ellen, Jethrey, Moses, Berry
CHAMBERS, HENRY GREENFIELD - 7/5/1854 Slaves: Martha, Joseph, Dow.
CHAMBERS, WILLIAM - 10/27/1836
Nicey, Anna, Silva, Jack, Elizabeth, Mollie, Elijah, Moses
COLLINS, MAJER C. Sr. - 6/4/1846
Anthony, Harriett, Esther, Isabel, Zilphia, Grim, Stepna, Dick, Henry, Ellen, John.
DOMINEY, FREDERICK Sr. - 8/26/1829
Ford & her two children Sal & Peter
GAINEY, JOHN - 9/29/1855
Henry & wife Manda & 2 children not named
GLOVER, KELLY - 11/11/1852
Kelsan, Sarah, Charity
HALL, JOHN - 1850
Peter, Minnie Miley & her 2 youngest children Isaac & Ephraim, Simon & Charlotte (husband & wife), Ransom, Mariah, James, David, Caroline & children not named, Ben, Charlotte (old, & her family not named)
HATCHER, JAMES - 4/19/1842
Jack, Jiny
HOLLIMAN, DAVID - 11/16/1858
Elic, Tilda, Scott, Jerry, Jim
INGRAM, DAVID - 2/1/1828
John, Eliza, Gilbert, Mary, Isabel & child, Ned, Jess, Gabriel, Caty, Della, Nellie, Aggy, Dicey, Lewis, Nicholas, Hardy, Nancy, Landerick, Isaac, Dave, Lany
JACKSON, NATHAN - 4/23/1829
Joseph
JACKSON, WILLIAM - 9/26/1831
Henry, Mayo, Jack, Justice, Dick, Rachael, Ephraim, Mary, Justice, Elizabeth, Lucy, Mingo, Bill, Rachael, Lucy, Jack, Lucie, Dick.
LAMBERT, JOHN - 3/2/1819
Slaves not named
LASSETER, ABRAHAM - 3/2/1842
Doll & 3 children Hester, Liz & William Ambrose, George, Eda & child Mariah, Jack, Abraham, Jude (f)
MANSON, JAMES -10/18/1829
Shade, Seynes, Jack, Bill, Lewis, Peggy, Pat, Sam, Nancy, Jinney, Martha, Lewis, Isham, Phoebe, Milly, Sallie, Fannie, Mariah, Cate, Hannah, Cate.
McLENDON, MASON - 9/25/1826
Isaac, Nina, Hall, Dilcey & children Elizabeth and Daniel, York, Martin
O' BANNON, JOHN - 11/18/1853
Jim, Manda & children Susan and Tom, Bryant (yellow), Isabel.
ROZAR, ROBERT Sr. - 1/13/1834
Cain, Rachel, Elizabeth, Robin, Sarah, Easter
SEARS, WINNIE - 2/7/1859
John A., Jim, Cummings, Rose, Daniel, Ed, Jack, Crawford, Watt, Lewis, Victoria
SMITH, WILLIAM - 6/1/1835
Doxie, Marshall, Sara
TALIAFERRO, JOHN 4/ /1817 - / /1818
Jack & Avy family, Polly & children
THOMAS, JAMES - 8/6/1825
Peggy, Charlotte, Ben, Minta
VALENTINE, LEVI - 6/16/1823
Suka, Bill, Dick
VAUGHN, JESSE - 9/10/1825
Hannah, Fannie, Filly, Bernard, Betty, Riney, Tom, Sam
WHITAKER, RICHARD - 9/27/1842
Clayborn, Grigg, Randel, Leaman, Leah, Nathan, Nan, Joseph
WHITEHURST, CHARLES Sr. - / /1840
Phoebe, Moses, Mary, Cynthia, Scilla, Jupiter, Ellick, Gin
WILCOX, JAMES - 10/10/1827
Solomon, Amos, Jude & children, Joshua
---

BIOGRAPHIES

William Merida Hubbard was an educator born July 19. 1872 in Irwinton. He was the son of Edinburgh and Elizabeth Hubbard, farmers who lived near Irwinton. In 1893 in Monroe County, he married to Mollie Helena Worthy, daughter of Taylor and Bashie Worthy of Monroe County. Ga.
There were six children born to this union: Leola, born Feb. 25, 1894; Maceo William, born December 14, 1899; Ruth A, born June 12, 1902; Samuel E. born March 29, 1905; Louise E, born Feburary 8, 1908; Clifton, born November 10, 1911.
Mr. Hubbard was educated in the public school in Irwinton, Ballard Normal School in Macon, Cornell University in Itaca, N.Y. Hampton Institute in Hampton, Va; Fisk University 1892-1896. He was the founder and superintendent of the A & M State School in Forsyth, Ga. in 1900 which was incorporated in 1902. Beginning as a private school with seven pupils it becamae a public school, a county training school and subsquently an Agricultural and Mechanical State School with an enrollment of over seven hundred students Later becoming the State Teachers and Agricultural College. After it closed in 1939 and was reopened as the Hubbard Training School, Monroe County's first black high school.
He died in Monroe County March 22, 1941 at the age of 71.

Sources: Who's Who in Black America, Federal Census Records, Georgia marriage records and death records at ancestry.com.

CEMETERIES (LINK)
Mary's Grave

New Bethel Baptist Church, Irwinton, established 1870

CHURCHES
Balls Church


Brundage Mount First Baptist
Calvary Hill
Fountain Grove AME
Friendship Baptist
Green Grove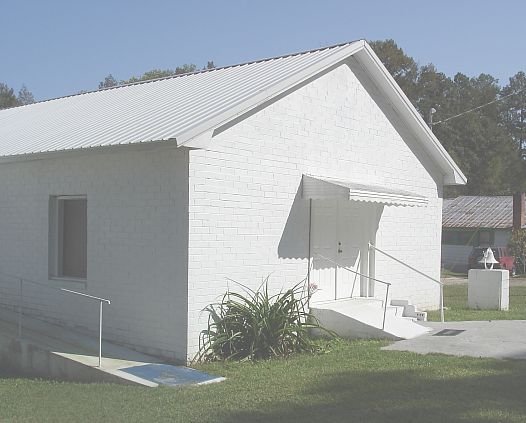 Holliman Grove Pentecostal Church, McIntyre
Mt. Cilla Springs
Mt. Tilla, near Nicklesville
Mt. Zion Primitive Baptist
New Bethel Baptist established 1870
New Corinth Green Grove Baptist. Gordon
New Hope CME
New St. Paul CME
Omega Faith Chapel
Parker Hill Baptist
Parker Springs Baptist
Peeler Chapel
Philadelphia
Providence
Scared Heart
Shiloh First Baptist
Smith Chapel
Spring Hill CME
St. Phillips AME, Railroad St, Toombsboro. Church building built in 1900.
Union Hill Baptist Church
SURNAMES
Place your ancestor on this page.
RESEARCH
Please share with us any documents that you have regarding African-Americans who lived in Wilkinson County. There are multiple sources, i.e. newspaper abstracts, wills, deeds, inventories of estates, which make mention of slaves or freedmen. I need YOUR help! Email me

FIRST STOP!
Georgia's Slave Population in Legal Records by David E. Paterson
Excellent and very, very thorough intro to Courthouse Records by David Paterson.
He gives many examples including names of slaves so you just might be lucky!!
ARCHIVES-Georgia
Georgia Slave Research Checklist
ARCHIVES-National
African American Research at national archives
Freedman's Bureau Records at national archives

LINKS
Best Place for Links, Newsletter, Database
This site should be book marked and explored for all the best, and up-to-date material on African American
Research.Afrigeneas.com
Cindy's List of African American Resources
QUERIES
Placing Your Query
It is helpful to fellow researchers if you mention that you are looking for an African-American ancestor. This points them in the right direction to share information.
Place it on THIS WILKINSON County MESSAGES BOARDS
rootsweb.com
Genforum at genealogy.com

Place it on the Afrigeneas Home Page

Join a Mailing List
There are several Mailing Lists which you would find helpful!

GA-AfricaAmer-L Mailing List

This Rootsweb list is devoted to African American Research in Georgia!

Send a message to:

GA-AfricaAmer-L-request@rootsweb.com

In the body of the message subscribe
(nothing else needed)

You can view EVERY message within a certain month. Browseable Archives

You can view EVERY message by specific subject. Interactive List Archives

Type in GA-AfricaAmer, select year, type in your subject, i.e.
Chris Gaunt's page includes 3 of them, and he is always adding new ones.
Afrigeneas is one of the very best.

mailto:majordomo@msstate.edu

Subscribe Afrigeneas
or
Subscribe afrigeneas-digest

Published Research Resource

The revised edition of "The Source: A Guidebook of American Genealogy" (Salt Lake City: Ancestry, 1997) includes a very useful chapter entitled "Tracking African American Family History." Includes types of records and what information you might find there and where to locate them. The Bibliography is also excellent.
"African-American Family Research" Part 1
by Roseanne Hogan, Ph.D.
(Ancestry Magazine, Mar/Apr 1996, Vol. 14, No. 2)
http://www.ancestry.com/magazine/articles/afamres1.htm

"African-American Family Research" Part 2
by Roseanne Hogan, Ph.D.
(Ancestry Magazine, Jul/Aug 1996, Vol. 14, No. 4)
http://www.ancestry.com/magazine/articles/afamres2.htm
"The Challenge of African American Research" (above)
by Curt B. Witcher, FUGA
(Ancestry Magazine, Sep/Oct 1997, Vol. 15, No. 5)
http://www.ancestry.com/magazine/articles/enjafam.htm

"The Freedman's Savings and Trust Company and African American Genealogical
Research" By Reginald Washington (Prologue: Quarterly of the National Archives
and Records Administration Summer 1997, vol. 29, no. 2)
http://www.nara.gov/publications/prologue/freedman.html