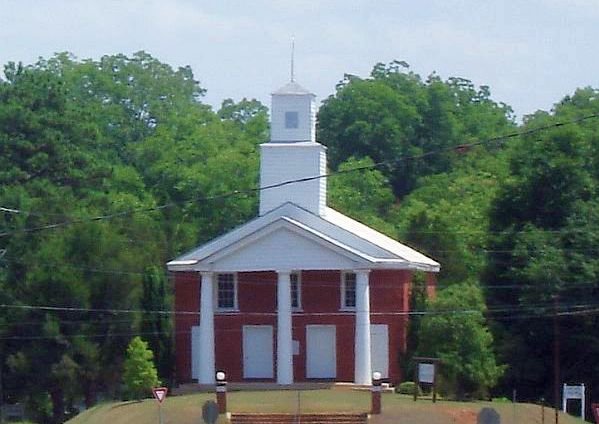 Photo by Eileen Babb McAdams July 2006
Irwinton Free Church- Union Church
Irwinton, Ga. Established 1854
About 1854 a series of fires broke out in Irwinton. Both the Baptist and Methodist churches were burned as well as the courthouse. A number of Presbyterians living in the county wanted a place to worship so various church members agreed upon a church where the Presbyterian, Missionary Baptist and Methodist Episcopal denominations could worship. It was incorporated in 1854 (See Act )and called the Irwinton Free Church, now called Union Church. William O. Beall deeded one acre to the church and the building was completed in 1856. See article about the church bell here.
The Methodist Episcopals used the church the first and third weeks, the Presbyterians the second week and the Missionary Baptists the four week in every month..
Some of the early members were:
Methodist: Green B. Burney, Thomas N. Beall, Dr. William Fisher, Judge J. C. Bower, Samuel Beall, W. I, Chambers, E. J. Gilbert, George W. Tarpley.
Baptist: W. O. Beall, Dr. A. E. Cumming, Captain Eli Cumming.
Presbyterian: Jona Rivers, Daniel A. Moore, Col. Richard L. Story, Dr. R. J. Cochran.

Baptist Members of Union Church 1883-1898
Annie Adkins
Mrs. Carrie E. Adkins
H. B. Adkins
J. D. Adkins
Missouri Baker
W. S. Baker, minister
Mrs. Josie A. Carswell
Mrs. A. C. Chambers
Miss Effie Chambers
Almina Chambers
James Chuny
Alice Branan
Helen Branan
Dr. B. S. Braziel
Clifford Burch
Franklin Burgess
J. B. Burgess
Penny Burgess
Mrs. M. G. Burgess
Mrs. M. E. Burney
G. R. Butler
Mrs. Nannie Butler
William Butler
William F. Cannon
Jimmy Carlisle
W.C. D. Carlisle
M. J. Carswell
Ellen DuPree Carswell
George H. Carswell
H. F. Carswell
Mary Chuny
William Cherry
Mrs. A. F. Coussings
John Coussins
Miss Minnie Cousins
Frances Criswell
Mattie Crutchfield
Rhoden F. Crutchfield
James a. Davis
Sanders J. Dixon
Anna DuPree
Anna Beall Dupree
John T. DuPree, Jr
John T. DuPree, Sr
Ollie Dupree
Octavia DuPree
W.T. DuPree
Emma Eason
Mrs. Mattie Eason
H. M. Freeman
M. Biddle Freeman
Mrs. Mildred Freeman
Hershall J. Gilbert
Anna Hartley
Fannie Hartley
Hiram A. Hartley
James Hatcher
H. E. Harville
Iverson Harville
Lena Harville
Linton Harville
Mrs. W. E. Harville
Vashti Hatcher
Mrs Ada Hatfield
Anne Hatfield
John T. Hatfield
E. J. Hays
Gamiel Holder
H. O. Holliman
Joel H. Holliman
Mrs. S. F. Holliman
Lada Hooks
Thomas Hooks
Annie Hoover
Mary Hoover
Lamar Clay
Mabel Hoover
H. H. Hoover
Green B. Hughs
J. T. Hughs
Mrs. J. W. Hughs
Nicholas W. Hughs
T. J. Hughs
William Hughs
Mrs. Georgiann Hughs
Mrs. J. W. Hughs
Leila Jones
Wiley B. Jones
Mrs. Wiley B. Jones
Ellen King
John T. King
Sallie King
Epsey Kinney
John W. Lindsey
Miss Annie Lindsey
Ben Lindsey
Gertrude Lindsey
Green J. Lindsey
Mrs. Green J. Lindsey
Miss Jonnie Lindsey
Laua Lindsey
Mrs. Ben Lord
Miss Lizzie Miller
Mrs. Jennie Miller
Mrs. Minnie Miller
R. D. McCullar
Melle Oliver
John Pace
Nathaniel Pace
Green Parrish
Fannie Poole
Mrs. Mattie Poole
Franes E. Porter
John Porter
N. B. Price
Gussie Robertson
Miss Annie Rutland
Mrs. Dora Rutland
H. F. Ruthland
Mrs. J. F. Rutland
Mattie Rutland
Mrs. Mina Rutland
Mrs. T. H. Rutland
Wilbur Rutland
Anton Sanders
Mrs. D. B. Shepherd
Ada Simpson
Alfred Simpson
Annie S. Simpson
Gussie Simpson
James E. Simpson
John Simpson
L. A. Simpson
Mrs. M. D. Simpson
Mrs. Sallie Simpson
Gertrude Smith
Ellen Spears
Robert Spears
Belie Taylor
Isaac Taylor
Lilly Taylor
Mariah Taylor
Sallie Taylor
Allie E. Ussery
W. H. Walden
William Wall
H. A. Watts
Georgia Willimas
J. Frank Williams
Robert Wright
W. B. Wright
Mrs. Emma Wood
Source: Wilkinson County Historical Collections, Joseph Maddox