Marriage Records 1860's
Wilkinson County Georgia
Submitted by R. Elizabeth Brewer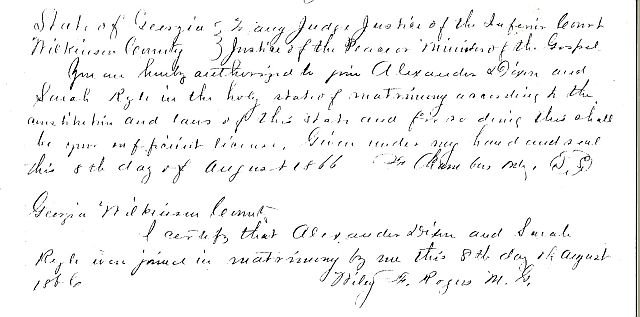 Alexander Dixon and Sarah Ryle
August 8th 1866
Alexander Dixon died shortly after their marriage and she married John C. Harrington on July 30, 1869. They were living with her widowed mother, Matilda Caroline (Butler)Ryle in 1870. Sarah (Ryle) Dixon)Harrington was buried in the Ryle Cemetery in Wilkinson County. Her date of death was July 24, 1901. Enumeration of surnames regarding them are spelled differently in almost every census.

Joseph B. Payne and Mary E. Cannon
August 12th 1866
Joseph B. Payne III, was the youngest son of Joseph B. Payne II and Senia Crumbley Mitchell Payne. Mary (Gilder) Cannon was, supposedly, the widow of David Cannon of Wilkinson County. He was killed in the War Between the States. Joseph and Mary settled in Laurens County.

Boss (?) Hughs and Sarah Davidson
November 22 1868

Henry C. Warner and Elizabeth Warner
November 22, 1868