Photo courtesy of National Archives

Major General Julian Robert Lindsey
Julian Robert Lindsey was born March 1871 in Irwinton, Ga, the son of John William and Julia F. Tucker Lindsey. His father, John William Lindsey was a lawyer, state representative and Pension Commissioner of Georgia from 1899 until his death in 1922. His mother was the daughter of Judge John R. Tucker of Washington County. His siblings were Irene Lindsey Holt, Getrude Lindsey Carswell, Annie Lindsey Price and Johnnie Lindsey.
He was appointed to the West Point Military academy on June 11, 1888 at the age of 17 and graduated with honors in 1892. He was at once assigned to the Ninth Cavalry as Second Lieutenant. He was the assistant instructor of tactics at West Point Military Academy in 1898. In 1898, as a Lieutenant of the Ninth U.S. Cavalry he was detailed in Atlanta succeeding Captain James E. Erwin as acting adjutant general.
In the summer of 1900 he sailed to Tuka, China with General Chaffee wih the 15th Infantry. He also participated in the Philippine Insurrection.
He was married to Hannah Broster in June 1904. She died March 31, 1905, at the age of 28, 2 days after her son Julian B. Lindsey was born, at Fort Ethan Allen, Vermont. Captain Lindsey was on duty at Governor Island as aid to General Chaffee. She was buried in Philadelphia, Penn. Their son Julian B. Lindsey became a colonel in the U.S. Army serving in WWII and the Korean War. He died in Atlanta in July 1979.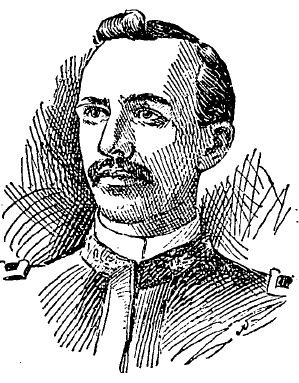 In 1911 he was commanding the Troop A, "Black Horse Cavalry" 15th Cavalry. He was an ardent horseman and was appointed senior cavalry instructor in 1912 until 1916 at West Point and he introduced polo at the academy.
In April 1916 he was detached from his command of the cavalry. He was a major in January 1917 and by the time the U.S. entered World War 1 in 1917, he was a Lt. Colonel. In 1918, he was promoted to Brigadier General and was in command of the 164th Infantry Regiment which was involved in the Meuse-Argonne drive with the Eighty-Second Division.
Serving in various posts such as Ft. Leavenworth and Ft. Des Moines after the war, he was promoted in 1932 to Brigidier General on the regular list and given command of Ft. Knox, Kentucky, Mechanized Cavalry Center.
He retired in 1934 and lived at the Army and Navy Club in Washington D.C.
In July 1942, 24 years after the World War I he and 6 other generals were promoted and received the U.S. Army's Distinguished Service Medal. Lindsey was promoted to Major General.
General Lindsey died June 27, 1948, age 77, at Walter Reed Hospital in Washington D. C. following a heart attack. He is buried in the West Point Cemetery in New York.
Sources: The Washington Post, The News (Fredrick, Maryland)