Military History of
Revolutionary Soldier
Major John Hatcher
b. 7/07/1757 d. 4/20/1835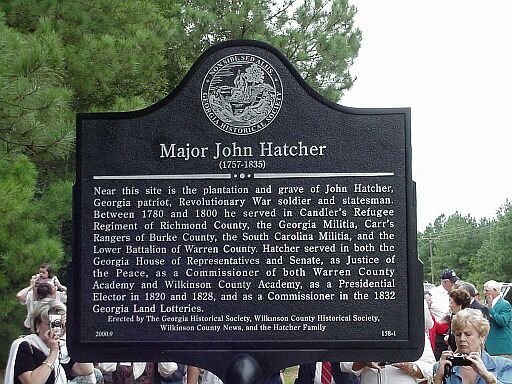 Photos copyright William W. Hatcher
After the British occupation of Georgia, John Hatcher was attached to General Nathaniel Greene's command for a time, serving in Colonel William Candler's Regiment. John was later assigned to serve as Captain in the 12th Company of the Columbia County Regiment of Militia. There was much Indian unrest in Georgia during the period that John served in the 12th Company. In 1800, John was commissioned a Major of the Georgia Militia.
John Hatcher, certified a refugee soldier; Co. E. Clarke on 25 Jun 1785
John Hatcher, Sr. served as a Legislator from Warren County from 1805 through 1809 and in 1810 moved his family to Wilkinson County, Georgia.
Served as a Lieutenant in Captain Jeremiah Beall's Company of the Georgia Militia commanded by Colonel Robert Middleton in 1779 and after the British occupation of Georgia joined Colonel William Candler's Regiment of Refugees from Georgia In 1781 and 1782, he was a private in Captain Patrick Carr's Company of the Burke County, Georgia Militia commanded by Colonel James McKay. At one time, he was under General Nathaniel Greene. He was wounded in the Battle of Cow-Pens and Fairfax. He received bounty land along Williamson's Creek Swamp in Washington County for his services. He was a native Of Henrico Parish, Virginia and later served as the State Senator from Wilkinson County, where he was a member of Mt. Nebo Baptist Church. Buried: Old Hatcher Cemetery on plantation, Passmore District, near Oconee river.
John Hatcher spent the last 24 yrs of his life in WilkinsonCo, GA
From Deaths in The Federal Union (Milledgeville, GA.)
12 May 1835
Died at his residence in Wilkinson County, Georgia on the 20th ult. Major John Hatcher, in the 83rd year of his age - a patriotic and fearless soldier of the Revolution.
Gravesite of Major John Hatcher, Sr. The Hatcher Plantation in Wilkinson County. This is now owned by Carl W. Shepherd, a descendant of John Hatcher. The Plantation is located on State Road 112, about 5 miles on the right hand side of the road from Toomsboro going toward Milledgeville, Georgia...........The old Cemetery is about a mile back of the home place where John Hatcher and family members are buried. The DAR chapter marked his grave."
Information provided and copyrighed by
William W. Hatcher Sr.
Milledgeville, Ga.
Phone: 912-454-3468
God Bless America!

See the Hatcher Family Website!


Hatcher Cemetery Sign Feb. 2007 by Eileen B. McAdams, Grave Marker photo by William Hatcher 2004

Photo Feb. 23, 2007, Eileen B. McAdams