Wilkinson County, Ga.
Photo Album
S
Share your photos . Email me
Photographs are copyrighted by the submitter and may not be copied and/or published
without the express written permission of the submitter.

Gertrude Williford Spear, Hattie Vinson Cannon and Olive DuPree Stevens

Gertrude writes "We are having fun? Uncle William made this picture". It was probably taken in Milledgeville between 1898-1908. Hattie Vinson and Gertrude are first cousins and Olive Du Pree was a neighbor and schoolmate from Irwinton, Georgia. Their uncle was William Pleasant Williams who lived in Milledgeville, GA and took photos at the county fair.

Submitted by Laura Northrop

Salem School Students 1920
The boy 3rd from the right(with his head down) on the top row is Paul Thompson, Sr. The lady to his right is Mary Fountaine, she was the teacher. The boy on the bottom left with the spiky hair is Ernest Thompson, brother of Paul.
Please email me if you know the names of the other students. Eileen. Submitted by Harold Thompson

Salem School Students 1920
On the bottom are 2 boys with their arms around each other,
the left one is Jessie P Thompson and the right one is Woodrow Thompson.
Please email me if you know the names of the other students. Eileen.
Submitted by Harold Thompson
Smith Family Photos


Dr. John Thomas Smith (Dentist), his wife,

Amanda Dean Smith and daughter ? Gertrude Smith of Wilkinson County, Ga.

Submitted by Karen Nash


Amanda Dean Smith
1831 - 1898

Dr. John Thomas Smith, Dentist
1830-1887
Both are buried at Irwinton Masonic Cemetery
Submitted by Tom Freeman


Rosa Smith Spence, age 16 c. 1873
Algernon Cannon


Rosa Spence Smith, Ellen Smith Cannon,
Vesta Brown Cannon, Algernon Brown Cannon.

About June 1934. Algernon Cannon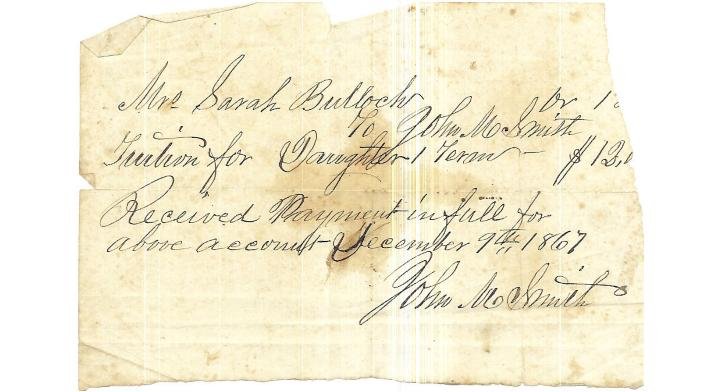 Tuition Receipt from Sarah Bulloch to John N. Smith dated 1867
R. Elizabeth Brewer.

Joel and Hassie Smith
submitted by Julia Faye Hall
---
Stevens Family Photos

John F. "Uncle Jack" Stevens and family in Gordon. circa 1912.
Photo from Bob Byington's collection.

The photo was made around 1912 in front of one of the water towers at the Gordon depot.
The man in the center is John Franklin Stevens (Uncle Jack), who was Bob Byington's grandfather
. Of the two children standing in front of Jack, the boy on the left is Bob Byington, and the girl on the right is his sister, Lottie Byington. The boy on the far left is Bob's brother, John Byington,

and the woman next to him is his sister Sally Byington. The girl on the far right is Pearl Byington, another sister. The woman standing next to Sallie is Patty Barfield, and the woman next to her is Ritchie Owen Evans. The four children in the rear between Pearl and Jack I cannot identify by first names, but they are the Perkins children, who were grandchildren of Davey Solomon.

Uncle Jack Stevens worked for 40 years pumping water at the Gordon depot. He lost his left leg in the
Civil War - he took a bullet in the leg during the battle of Chancellorsville in May of 1863. He was much liked and respected, and the accounts I have read of him in newspapers always comment on his character.
He is buried in the Gordon cemetery just a few yards away from the house he lived in. Next to him is his wife Ann Willis, and their daughter Bethany Stevens, and her husband Amos M. Byington (who built the
Gordon depot in 1885). Also in this plot are Sally Byington and her husband, Sam O'Connor, Bob Byington and wife Lucille Hooker, and Lottie Byington. A number of Amos Byington's descendents had markers put

on five of these graves last year.

-Mark Byington copyright 2005-2006

Stevens-Cason Cemetery
North of Toomsboro
Eileen B. McAdams

James (Jim) F. Stinson, son of James Stuard Stinson and Ellender Ward Stinson, wife Sallie Brown Stinson dau of William and Mary Porter Brown; Children: Howard married Eva Register and Stella Lee;
Nell married Walter Asbell and Owen Hill; James holding Oma, she married Farris M. Bell and John
H. Peacock; Sallie holding Lindsey, he married Pearl Cobb; Julian married Gladys Jump;
Maude married Charlie Deason; standing: Gussie married Henry Adkins,
Lovie was born later and married John Rookes, Roy Roberts and Mr.Ashfield.
This picture was made about 1902 near Bethel Church, Wilkinson Co, Ga.
Submitted by Ellie B. Dean

Stubbs African-American Cemetery
Toomsboro Hwy. 112 N
Eileen B. McAdams
Stubbs House
Toomsboro Hwy.